The Bigger-than-Life Mike Sexton was a fan of his fans. Everyone who knew him has been permanently marked with a fond memory. Mike's family wanted to share some of his personal things with his fans. The family graciously donated many of Mike's personal collection of photos and keepsakes to be auctioned off for his founding charity, Poker Gives.
From October 12th to the 26th, you can bid to own something special of Mike's. Each collection item comes with a special sticker to confirm it came from his collection.
Feel free to bid on any and all of the first 80 items from Mike's personal collection in the auction. The last half of the listed items are on consignment to us. Your purchases support the programs Mike was passionate about; homelessness, youth, and military families. We hope you will see all of it as generous contributions to Poker Gives. Thank You!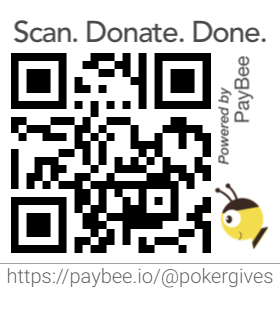 You can begin bidding today! Simply scan the QR Code on this page, or visit https://paybee.io/@pokergives
Thank you all for your generous support!